Sophie Campbell
Gift Vouchers
Give a guide for the day
The great thing about a gift voucher is its flexibility: the recipient can choose what they want to do and when and where they want to do it. Want to bring friends and family? No problem. Pursue a special interest? Easy. It works for all ages and abilities and it's totally unique. Sophie will discuss the best use of either a Full Day or Half Day tour.
Pricing
Full Day Tour (up to 8 hours) : £300
Half Day Tour (up to 4 hours): £200
Each voucher is sent directly to the recipient in a hand-addressed gold or silver envelope, or to the giver in an outer envelope so a personal message can be added.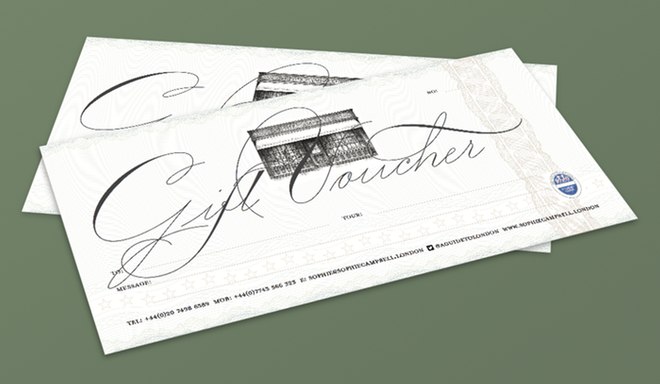 "I've worked with over a hundred guides in my career and Sophie Campbell is the best in the business."
Dana Conley, Conley & Silvers LLC
"Your thoughtful plans and flexibility helped us tremendously. The kids are now ready for their two days at ExCel, having seen lots of sunshine, the Tower of London and Windsor."
Meg H, USA
"Thank you so much for your expert and engaging leadership ... I learned so much more than I would have done on my own."
Ann W, Ludlow
"Sophie tailored our tour to our specific interests (shopping!) and we had a delightful three and a half hours not only sightseeing but learning about London. Sophie also gave us a lot of information and tips which really made the rest of our week fabulous."
Eveline and Kylie B, Western Canada
"Sophie Campbell is the best guide we have ever had the privilege of being led by... We couldn't wait to join her each morning. If we find that she does other tours in London, we'll be joining them."
Dr & Mrs S, England
"The whole family really enjoyed your Royal Parks tour and were amazed by some of the streets we explored and parts of the parks we visited about which we knew little to nothing."
Judith and Gordon R, West London
Gift Voucher FAQs & Terms
Before booking be sure to read my Gift Voucher FAQs and the associated Terms & Conditions for more information on what is included and how to arrange your tour.
Get in Touch
Talk to Sophie about tours, books or journalism using the contacts below, find her on social media or on the Guild of Registered Tourist Guides or Association of Professional Tourist Guides websites.
+44 (0)7743 566 323
info@sophiecampbell.london