Sophie Campbell
Visiting London
Before you arrive
Updated November 2020
COVID-19
As the world adjusts to Covid, and before mass vaccination occurs, Londoners and visitors (mainly Brits, but foreign voices are still heard at key attractions, albeit in tiny numbers) are now used to pre-booking for everything and dashing eat or visit things between lockdowns. Masks are compulsory in shops, restaurants and pubs and on public transport. It's polite to wear them in any shared space but most Brits don't wear them in the open air, except where it may be busy. Public transport is pretty empty, even at rush hour, so it's relatively safe (I use it all the time) but hand-washing before and after is key and take sanitising gel. Hire bikes are a great way to get around, ditto with the hand-washing, and there's never been a better time to walk. I've also had the best visits I've ever had to normally-packed star attractions: Westminster Abbey, National Gallery, the Tates. So come on over, when you can.
PUBLIC TRANSPORT
Order a Visitor Oyster Card from Transport for London (Tfl): Londoners use these smartcards on buses, tubes, trains and trams. Visitors pay a £5 activation fee and add money for Pay As You Go fares from £10 to £50 and any left over is refundable at the end of your trip. Ticket machines accept contactless cards and non-British credit cards.
Important: swipe in and out when using any form of train, but only swipe in on a bus or tram. If you fail to swipe out after a train journey (the further from the centre you get, the more likely you are to forget, as barriers are often replaced with free-standing card swipers) you will be charged the full day cap and it's INFURIATING. Swiping means holding your card against the circular yellow symbols you will see on all forms of London transport.
Why bother?
You can order a Visitor Oyster in advance and get it sent to you at home or to your London hotel, pre-loaded.
A single fare with your Oyster costs £2.40 off peak for an adult, 85 pence for children aged 11 to 15. Under 11s travel free with an accompanying adult and don't need a card, but may need ID if they look older than 11.
The card automatically calculates your best fare and applies a daily price cap if necessary.
It gets you limited discounts at various stores, restaurants and attractions.
Unlike a subway card in New York, say, the Oyster card does not expire: you can keep it for your next trip.
It is also transferable, so if you're not planning to return, you can give it or loan it to a friend, funds intact.
When you leave, claim unused funds of up to £10 via the machines, or larger amounts at Visitor Centres (except, for some bizarre reason, Gatwick Airport).
The big difference between Visitor Oysters and our Oysters is that we don't get the discounts and you can't load multi-trip travel cards or season tickets onto your card. If you're staying for a while, get a normal Oyster.
You can swipe in directly on tubes and buses using contactless cards or Android Pay or Apple Pay.
All the above can be used on riverboats (you get discounts on Uber Boats, formerly known as Thames Clippers, bigger if you have a day Travel Card pre-loaded) and local trains, including the Gatwick and Heathrow Express.
ATTRACTIONS
Most things open at 10 am, some earlier, and will start closing between 4 and 5 pm with chuck-out time an hour later. Leave time for security lines in the major sites and observe airline rules, leaving sharp objects at home.
The London Pass gives entry to 80 London sites, with some fast track options (though not Westminster Abbey or the Tower of London, for example) and a great hop-on hop-off bus tour. It doesn't include every site, you can't repeat visit and don't forget that most of our national collections are free anyway. There are 1, 2, 3, 6 or 10 day passes, from one day at £79 for an adult and £56 for a child, rising to £193 and £149 for 10-day passes. Get physical cards shipped for a small fee or download remotely to your smartphone. Because of Covid-19, passes are currently valid for two years instead of the normal one – if you have pre-booked, simply reload your pass or call the company.
EATING OUT
Londoners tend to eat from around 7 pm, with peak time between 8 pm and 10 pm, later than Americans and earlier than Latin Americans. Restaurants often open early (5 pm)f or this reason but usually start closing by 11 pm.
If eating formally in the evening, double-check that children are welcome – something that utterly puzzles foreigners but is sacred to many Brits, especially older ones. Almost all restaurants are chilled about kids at lunchtime.
Do not slather Marmite, a mysterious black and sticky substance that you may find in a jar or packet on your breakfast table: use it in stringent moderation or spend the day drinking pints of water (it's yeast spread) (I know).
Foodies: subscribe to Square Meal and Just Opened London and check reviews on Harden's Guide and London Eater. Good journalists to follow include Marina O'Loughlin (formerly Guardian, now Sunday Times), Grace Dent (Guardian), Jay Rayner (Observer – also hosts a popular BBC Radio 4 show, The Kitchen Cabinet), and Giles Coren (Times/Sunday Times + telly). Allergies: Nut Mums and Gluten Free Foodies. Vegans/vegetarians: see Vegan London and The Londonist and Time Out, which list vegan, vegetarian and allergy-sympathetic eateries – there are loads of them now, you won't go hungry.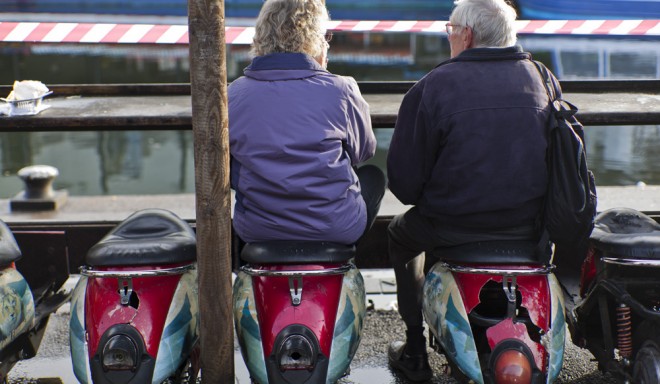 Best Classic London Books
The Diary of Samuel Pepys (by Mr Pepys himself, 1666)
Women-loving, music-loving, shorthand-writing Restoration diarist.
A Journal of the Plague Year (by Daniel Defoe, 1722)
Presented as fact, actually fiction, and still a brilliant city portrait.
Vanity Fair (by William Makepeace Thackeray, 1847-8)
Ambitious Becky Sharp elbows her way through Regency London.
Bleak House (by Charles Dickens, 1853)
Fog is the metaphor in this chilling evocation of London and law.
Mrs Dalloway (by Virginia Woolf, 1925)
One day, one woman, one party…the perfect London novel.
Twenty Thousand Streets Under the Sun (by Patrick Hamilton, 1935)
All you need to know about damp wool, BO and pre-war heating.
Absolute Beginners (by Colin MacInnes, 1959)
Before Notting Hill was colonised by bankers, it was hot and angry.
Up the Junction (by Nell Dunn, 1963)
Life as a young woman single mum in not-swinging South London.
Hawksmoor (by Peter Ackroyd, 1985)
Fine evocation of 1700s and shorter than his Biography of London.
Downriver (by Iain Sinclair, 1991)
The psycho-geographer and Bard of Gloom and tackles the Thames.
Best London Films
The desolate docklands host the best London gangster movie ever. (Dir: John Mackenzie, 1980)
Worth it for the opening aerial shot down the filthy Thames. PS Could that be a serial killer living near ShakeShack in Covent Garden? (Dir: Alfred Hitchcock, 1972)
Les Bicyclettes de Belsize
Sweetly beguiling jaunt through villagey North London with an Engelbert Humperdinck ear worm theme tune. (Dir: Douglas Hickox, 1968)
Ms Redgrave, some mysterious photos, London in full swing. (Dir: Michelangelo Antonioni, 1966)
Zombies invade South London, and nobody really notices… (Dir: Edgar Wright, 2004)
Robert Downey Jr wears the cape, worth it for Tower Bridge alone. (Dir: Guy Ritchie, 2009)
Harry Potter & the Half Blood Prince
The Death Eaters prove the Wobbly Bridge does wobble. (Dir: David Yates, 2009)
So what if Shakespeare didn't write the plays? Check out the Globe. (Dir: Roland Emmerich, 2012)
The Queen's dad battles his stammer in 1930s London. (Dir: Tom Hooper, 2010)
Magisterial, mercurial Winston Churchill irritates the hell out of his colleagues in wartime London. The tube scene is just weird. (Dir: Joe Wright, 2017)
Strike: atmospheric detective series based on the novels by J K Rowling, set largely in grubby, rain-slicked Soho.
An Education: newspaper columnist Lynn Barber's life story made Carey Mulligan famous. (Dir: Lone Scherfig, 2009)
Derby Day: love and death at the flat race known as 'the Londoners' day out'. (Dir: Herbert Wilcox, 1952)
Passport to Pimlico: Never a dull moment as London SW1 declares independence. (Dir: Henry Cornelius, 1949)
Best London Songs
A13, Trunk Road to the Sea (Billy Bragg, 1983)
Tongue-in-cheek tribute to one of the city's most charmless roads by the greatest protest singer of them all.
A Nightingale Sang in Berkeley Square (Vera Lynn, 1940)
The Forces' Sweetheart, who died in 2020, sings about love, birds and the West End.
London Pride (Noel Coward, 1941)
Coward in uncharacteristically sentimental form during the Blitz.
Streets of London (Ralph McTell, 1969)
A sad and beautiful little song about London's dispossessed.
Down in the Tube Station at Midnight (The Jam, 1978)
A real Tube train and great lyrics beat London Calling any day.
Baker Street (Gerry Rafferty, 1978)
Legendary sax riff starts a tale of North London dislocation.
Up the Junction (Squeeze, 1979)
Wistful story of lost love – this time from the bloke's point of view.
Electric Avenue (Eddy Grant, 1982)
Brilliantly atmospheric track about post-riots Brixton.
Bus Driver's Prayer (Ian Dury and the Blockheads, 1989)
I defy you not to laugh as you learn the geography of London. (Rude)
Harrow Road (Ska mix) (Big Audio Dynamite, 1995)
Brilliant bouncy track by Mick Jones (ex-Clash) and his 1980s band.
Allen's chirpy, girlish voice makes the imagery more shocking. (Rude)
Warwick Avenue (Duffy, 2008)
Oh no, we've all been there: dumped in Maida Vale.
The great chanteuse of the Lee Valley blames it all on the River Lea (yes, Lee and Lea, don't ask), which is perhaps why she moved to South London aged 10. Didn't do her too badly, though.

Get in Touch
Contact Sophie or check availability via the links or see Guild of Registered Tourist Guides or Association of Professional Tourist Guides.
info@sophiecampbell.london